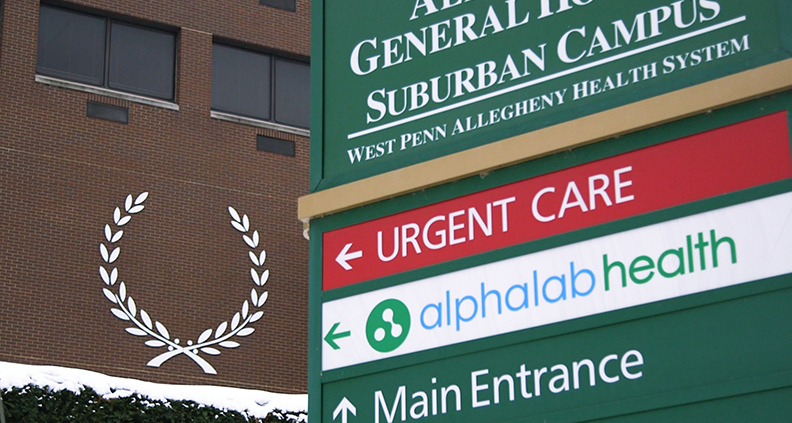 Image Credit: Allegheny Health Network via Modern Healthcare
Pam Arlotto is quoted in a May 3, 2022, article, by Jessica Kim Cohen, in Modern Healthcare. 
In February, Pittsburgh-based Allegheny Health Network held a ribbon-cutting in Bellevue, Pennsylvania, to unveil a home for one of its newest ventures—AlphaLab Health, which the system hopes will spur innovation and improvements to community health.
The 10,000-square-foot innovation hub, a partnership with Pittsburgh-based startup incubator Innovation Works, is housed in a former hospital owned by AHN. It will serve as the home base for startups participating in AlphaLab Health, AHN's healthcare and life sciences startup accelerator launched in fall 2020.
The space gives AlphaLab Health startups access to wet and dry labs to develop products, as well as office space and areas to collaborate and meet with other startups. The startups also receive early-stage funding and opportunities to connect with clinicians and test products at AHN.
The project has involved more than two years and $5 million, including renovations and investments in startups and programing—of which AHN and its parent Highmark Health contributed $2 million.
Accelerators and other innovation centers became more popular during the COVID-19 pandemic, said Pam Arlotto, president and CEO of healthcare consultancy Maestro Strategies. While hospitals have been setting up innovation programs for years, the efforts took on a new focus as the healthcare industry eyed consumerism and pushed to create new care models that engage patients at home and outside of the hospital.
They're expensive projects, usually involving investments in real estate and hiring staff to run the programs.
Hospitals starting innovation centers have done everything from revamping old clinical or administrative space to building new facilities to house innovation programs, said Rob Lowe, CEO of Wellspring, a software company that sells products for innovation and research and development programs. It depends what type of work the hospital needs to do or the form of the incubator itself.
Some hospitals create accelerators to identify startups worth partnering with or venture capital arms that invest, Lowe said. Some, like AHN's, are partially funded through local government as part of economic development efforts.
"Almost in all cases of these hospitals that we work with around the U.S., we see dedicated space," Lowe said.
Download PDF of Full Article: Hospitals buying real estate, revamping clinical space for innovation hubs _ Modern Healthcare May 3 2022
https://maestrostrategies.com/wp-content/uploads/2022/05/AlphaLabHealth-credit-Allegheny-Health-Network-copy.jpg
446
792
Maestro Strategies
http://maestrostrategies.com/wp-content/uploads/2014/03/maestro_logo.png
Maestro Strategies
2022-05-03 10:58:21
2023-04-18 11:38:27
Hospitals buying real estate, revamping clinical space for innovation hubs