Information and technology is becoming pervasive in all aspects of clinical care delivery and financial management of the health care enterprise.  Healthcare business, clinical and information technology leaders agree that IT is critical to population health management and value based reimbursement.  Yet, for many, day to day problems often keep IT leadership in a fire-fighting mode.  Many CIOs and healthcare business and clinical leaders find it difficult to find time to focus on the future.
Traditional healthcare information technology strategic plans were primarily consisted of a list of vendor applications and infrastructure to be deployed.  The bottom line for most healthcare organizations is that tactical IT road maps will not position the organization for tomorrow.  Segmentation of the IT strategic plan and portfolio into four primary programs can be useful in transitioning IT from a "keep the lights" on functional role to a strategic partner for the transition from volume to value.  Each quadrant has a unique role in maximizing the value IT contributes to the organization.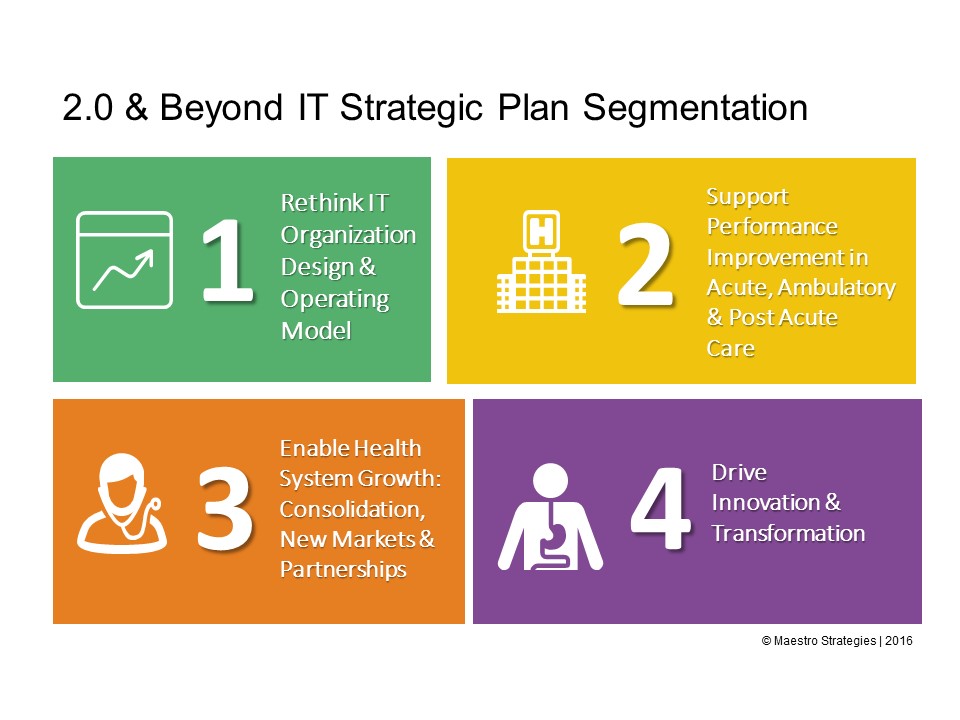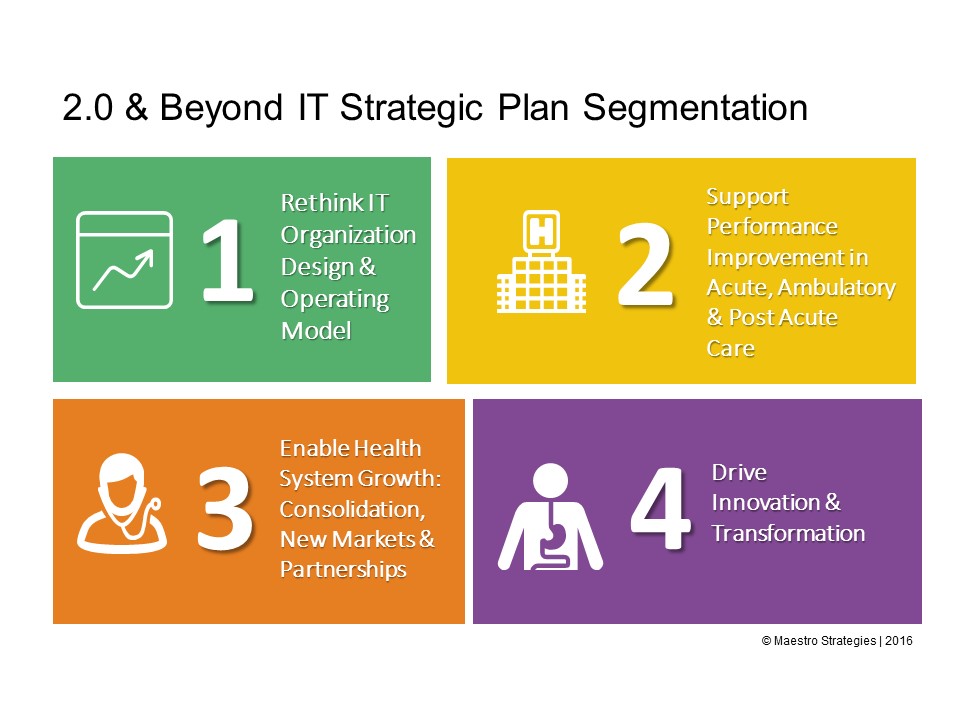 See below our thinking on each quadrant and key take-always for senior leadership
1 – Rethinking IT Organization Design & Operating Model:  Traditional IT organization structures, processes and operating models should be reconfigured to consider the healthcare enterprise of tomorrow.  Many IT organizations were founded within hospitals and those models no longer work given the level of consolidation, the requirements to support clinical integration networks, and the expectations of affiliates and partners.  New customer support functions, shared services centers and economies of scale are needed for today's contemporary information technology services.  Collaboration with informatics, analytics, quality and security professionals is challenging traditional IT cultures and operating practices.
Key Take-Aways:  Have you redesigned the IT, Informatics, Analytics and Quality leadership and organization structure?  Do you have a plan for building new competencies?  What is the 2.0+ operating model?
2 –  Support Performance Improvement in Acute, Ambulatory & Post-Acute Care:  As pressure on healthcare costs increases and margins become more dependent of value, not volume, clinical and operations leaders will increase their collective focus on the Triple Aim, or care, health and cost.  Health systems will critically examine the clinical process, patient experience, outcomes and efficiency of care each with financial implications.  A myriad of reimbursement programs and contracts from payers will create new incentive and penalty structure for hospitals, physicians and post-acute providers.   From shared savings contracts, to bundled payments to direct to employer, each year additional measures and programs will be added.  Health systems need to improve their capabilities in business intelligence, real-time data access, and effective chronic care management
Key Take-Aways:  Have you transitioned from departmental or point enterprise performance improvement systems?  Do you have a plan for creating an analytics center of excellence?  What distinct business intelligence strategies are in place for enterprise performance improvement and population health management?
3 – Enable Health System Growth:  Consolidation, New Markets & Partnerships
Horizontal and vertical consolidation, new geographies, service lines and points along the continuum, and partnerships with other health systems, payers and new market entrants such as retail health are blurring the lines of what it means to be a health system.  Each market is different and each enterprise is different.  One size fits all strategies, or rip and replace with one core vendor are no longer viable strategies.  HFMA's Value-Based Payment Readiness Survey ranks interoperability readiness as the weakest competency for most respondents.  Yet, it also indicates that 70 percent of financial executives anticipate their organizations will need to be extremely capable in data exchange to support value based reimbursement requirements and new market strategies in the next few years.
Key Take-Aways:  Have you developed an interoperability strategy based on the unique makeup of your enterprise, affiliates and partner readiness? Do you have a plan for identify management, access and referral management, and care coordination?  What is IT's role in extending the enterprise and connecting the community?
4 – Drive Innovation & Transformation
Cloud computing, mHealth, patient activation and consumer engagement all come to mind when Digital Health Strategy is mentioned.  Billions of dollars have been invested in innovative start-ups and new transformative tools.  Yet, security risks are increasing daily.  Well beyond portals, initiatives such as virtual visits, home monitoring, self-service scheduling and bill payment, open notes, wearables, social health communities, and the list goes on.  A recent Surescripts Survey finds "patients prefer digitally savvy doctors and demand a connected healthcare experience."
Key Take-Aways:  Have you developed an integrated patient and consumer engagement strategy?  Do you have a patient advisory council?  What are the unique characteristics of key patient populations that could drive innovation?
http://maestrostrategies.com/wp-content/uploads/2014/03/maestro_logo.png
0
0
Pam Arlotto
http://maestrostrategies.com/wp-content/uploads/2014/03/maestro_logo.png
Pam Arlotto
2017-03-26 10:41:03
2019-08-05 13:55:33
What Got Us Here, Won't Get Us There: Strategic Planning for the Transition