One-week post #HIMSS19, blogs and articles are using phrases like "no one unifying theme", "something for everyone", "the invasion of non-healthcare high tech" and "the end of the EHR movement" to summarize the global conference key take-aways. Even though the exhibition showcased interoperability, artificial intelligence, telehealth, security, the internet of things, precision medicine and more, the focus was not on these technologies. In fact, a more subtle underlying reality was clear in both the education sessions and vendor booths. Data is the star of the show!
Data in the Spotlight at HIMSS
Data collection, data integrity and quality, data access, data for benchmarking and comparative analysis, data protection and safety, data as part of care management platforms, data analysis and prediction, data visualization and ultimately, the transformation of data into information each had the spotlight. Data and analytics vendors were certainly a major focus of the show. These vendors were not outdone by solutions which offered data a by-product of a much more comprehensive offering such as Enterprise Resource Planning or data embedded within cloud-based services designed to solve specific business and clinical problems such as readmissions. Moreover, CMS took center stage in multiple forums to discuss the Interoperability and Patient Access Proposed Rule. With a goal to touch all aspects of healthcare, from patients to providers to payers to researchers, "CMS hopes to break down existing barriers to important data exchange needed to empower patients by given them access to their health data," CMS Administrator Seema Verma indicated. HIMSS even gotten directly into the act. Recognizing the importance of data and information, they have changed their vision statement from "better health through IT" to "better health through information and technology."
Siloed Organizations and Turf Battles
Yet, even with all of this attention and applause its hard to reconcile the maturity of data initiatives in many health and healthcare organizations today and the challenges faced by many. For data to be valuable, data must be converted into information, information into insights, insights into decisions, and decisions into action. Unfortunately, many health and healthcare still manage their data assets within siloed organization structures. Turf battles are common. Data-related issues for decision makers often include:
Confusion over who "owns" data and analytics
Questions regarding centralization versus decentralization of analytics resources and tools
Limited trust in the data and reports created by other parts of the organization often resulting in considerable rework
Inconsistent data definitions, duplicate data sources and systems, and costly resource requirements
Analysts who don't understand the problem to be solved when data requests are "thrown over the fence"
Proliferation of spreadsheets, manual manipulation of score cards, and limited automation
Delays and slow turnaround of data requests
Data repositories that create many but rarely used reports
An inability to fully appreciate much less realize the benefits of big data, and predictive and prescriptive analysis
According to thought leaders at SAP, "less than 1% of the world's data in business is analyzed and turned into benefits".
The Enterprise Analytics Management System
Creation of an organizational approach to standardizing management of data, or Enterprise Analytics Management System (EAMS), results in a defined, documented and deliberately managed set of priorities, polices, procedures and processes. The EAMS should address the collection, definition, analysis, interpretation, translation and presentation of data to a wide variety of audiences.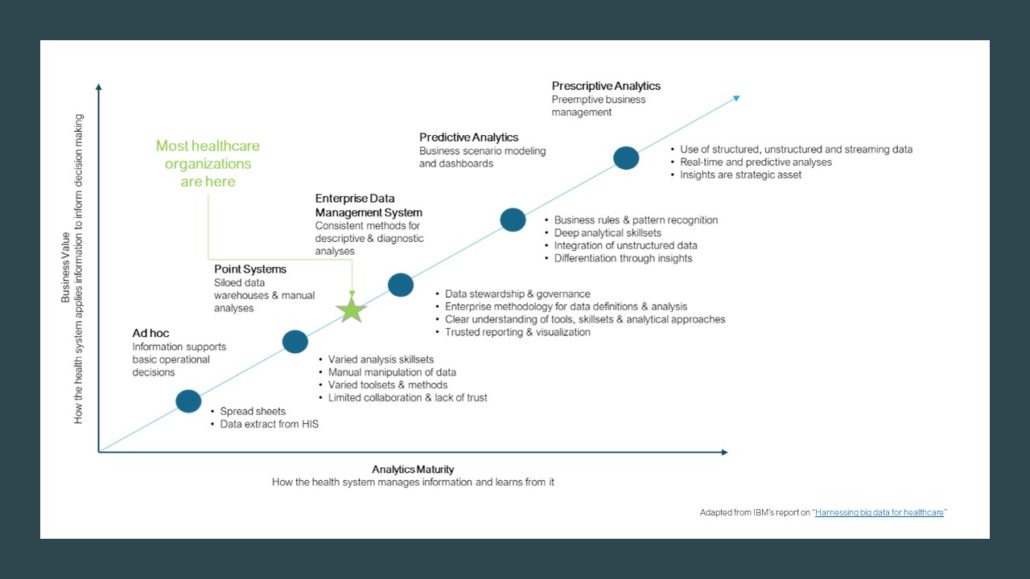 Objectives for the EAMS are to:
Transition from a data and analytics departmental/siloed approach to a clear, consistent enterprise approach to managing data assets
Ensure key stakeholders understand enterprise analytics assets and have a consistent methodology for working together across the organization
Clearly define an enterprise analytics organization and operating model
Build a culture of collaboration and accountability to support data and analytics
Design and implement an oversight process or governance process
Develop an Enterprise Analytics Strategy and Pragmatic Road Map for the next few years
For data to truly be the star of the show, we must improve our ability to govern and manage this critically important asset.
http://maestrostrategies.com/wp-content/uploads/2014/03/maestro_logo.png
0
0
Pam Arlotto
http://maestrostrategies.com/wp-content/uploads/2014/03/maestro_logo.png
Pam Arlotto
2019-02-28 22:33:33
2019-02-28 22:44:25
Data – The Star of the Show